In a milestone statement distributed moments ago by the GPI Pre-delivery Acceptance Review Committee, Chair Stephen Goodsell announced that GPI is now clear for shipment from the University of California Santa Cruz to Gemini South in Chile.The Committee's final report is slated for release on July 26th, but a statement sumarizing the results of the review is available now - GPI Review Committee: Final Day Statement  41 KB
The Gemini Observatory consists of twin 8.1-meter diameter optical/infrared telescopes located on two of the best observing sites on the planet. From their locations on mountains in Hawai'i and Chile, Gemini Observatory's telescopes can collectively access the entire sky.
Gemini is operated by a partnership of five countries including the United States, Canada, Brazil, Argentina and Chile. Any astronomer in these countries can apply for time on Gemini, which is allocated in proportion to each partner's financial stake.
About Gemini
---
Gemini's Mission
To advance our knowledge of the Universe by providing the international Gemini Community with forefront access to the entire sky.
---
Beyond 2021: A Strategic Vision for the Gemini Observatory
Strategic Vision PDF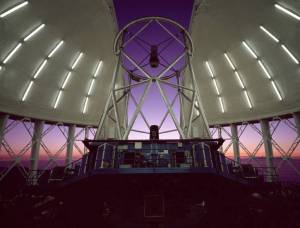 Gemini North with open wind vents and observing slit at sunset.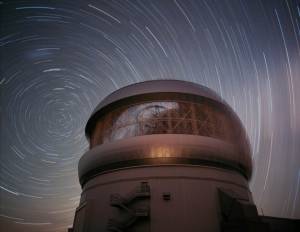 Gemini South with star-trails of the South Celestial Pole overhead.
The Gemini South Observing Database will be offline 2017-May-25 from approximately 9:30 AM - 2:00 PM CST while work is done on the network infrastructure.
During the last few weeks Gemini South has been affected by severe rain and snow storms, affecting the operations due to roads being affected and also the dome being covered in ice and snow. The last few days we have been closed fue to the snow and ice acummulating on the dome and the summit crew has been working hard to get back to operation. Due to the freezing temperatures and the high winds we do not expect to be able to open again until Monday the 22nd of May at the earliest.