In a milestone statement distributed moments ago by the GPI Pre-delivery Acceptance Review Committee, Chair Stephen Goodsell announced that GPI is now clear for shipment from the University of California Santa Cruz to Gemini South in Chile.The Committee's final report is slated for release on July 26th, but a statement sumarizing the results of the review is available now - GPI Review Committee: Final Day Statement  41 KB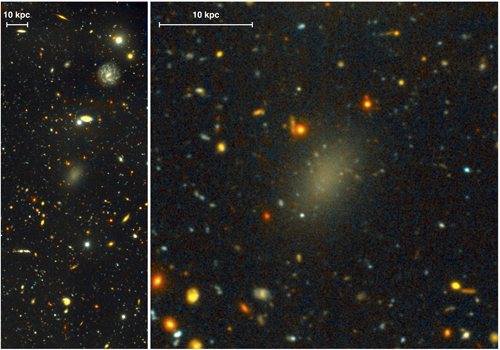 The dark galaxy Dragonfly 44. The image on the left is a wide view of the galaxy taken with the Gemini North telescope using the Gemini Multi-Object Spectrograph (GMOS) as part of a Fast Turnaround program. The close-up on the right is from the same very deep image, revealing the large, elongated galaxy, and halo of spherical clusters of stars around the galaxy's core, similar to the halo that surrounds our Milky Way Galaxy.
A new software package for GSAOI images, the Distortion Correction and Stacking Utility (Disco-Stu), is now available for download. This standalone package, written in python, will align and stack images that have already been processed by the Gemini IRAF gareduce task. The initial release is v1.3. Additional information and a download link can be found
here
.
This section mainly describes how to prepare and check GMOS observations. Setting up acquisition and observing sequences at Phase II is not intuitive until one is quite experienced (and maybe even not then). An important key to successful observation preparation is starting from the GMOS OT Library. Preparing observing sequences involves much more than setting up the observation of the target; the complete observing sequences must include "acquisition observations" (e.g., for finding the target and putting it in the spectrograph slit).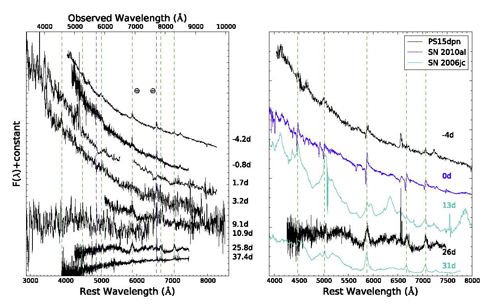 Figure 1. Spectra of PS15dpn from the combined GMOS, PESSTO and SNIFS campaign. The vertical dashed green lines refer to He I and He II lines, while the blue (only shown on left) refer to Hα and Hβ. Right panel refers to restframe days after peak.
Si te gusta ver el cielo nocturno, o si deseas obtener más información acerca de las estrellas visibles a simple vista, te invitamos a descargar los nuevos mapas estelares mensuales del Observatorio Gemini.
Basta con hacer clic en la imagen de la derecha para bajar un archivo en PDF, de tamaño carta, que puedes imprimir.