Contrast
The figure below shows the 5-sigma contrast levels achievable with a one-hour integration, and spectral differential imaging in the H band. This simulation was done over one R = 45 spectral resolution element (two spectral pixels), where the central wavelength is 1.65 microns and SDI has been applied over the 1.579-1.624 micron region. The dramatic improvement in contrast up to about 0.2 arcsec separation is due to speckle suppression. Different colours correspond to different I magnitudes of the central star; for each, the lower (dashed) curve is for a G0 star, the upper (solid) curve is for an A0 star. Contrast is a function of both I magnitude (which determines AO performance) and the magnitude at the observing wavelength (which determines photon noise from the starlight halo); curves are given as a function of I magnitude. Contrast on stars brighter than I=5 mag will probably be limited by quasi-static speckle effects, so the I=5 mag curve should be used for all brighter cases.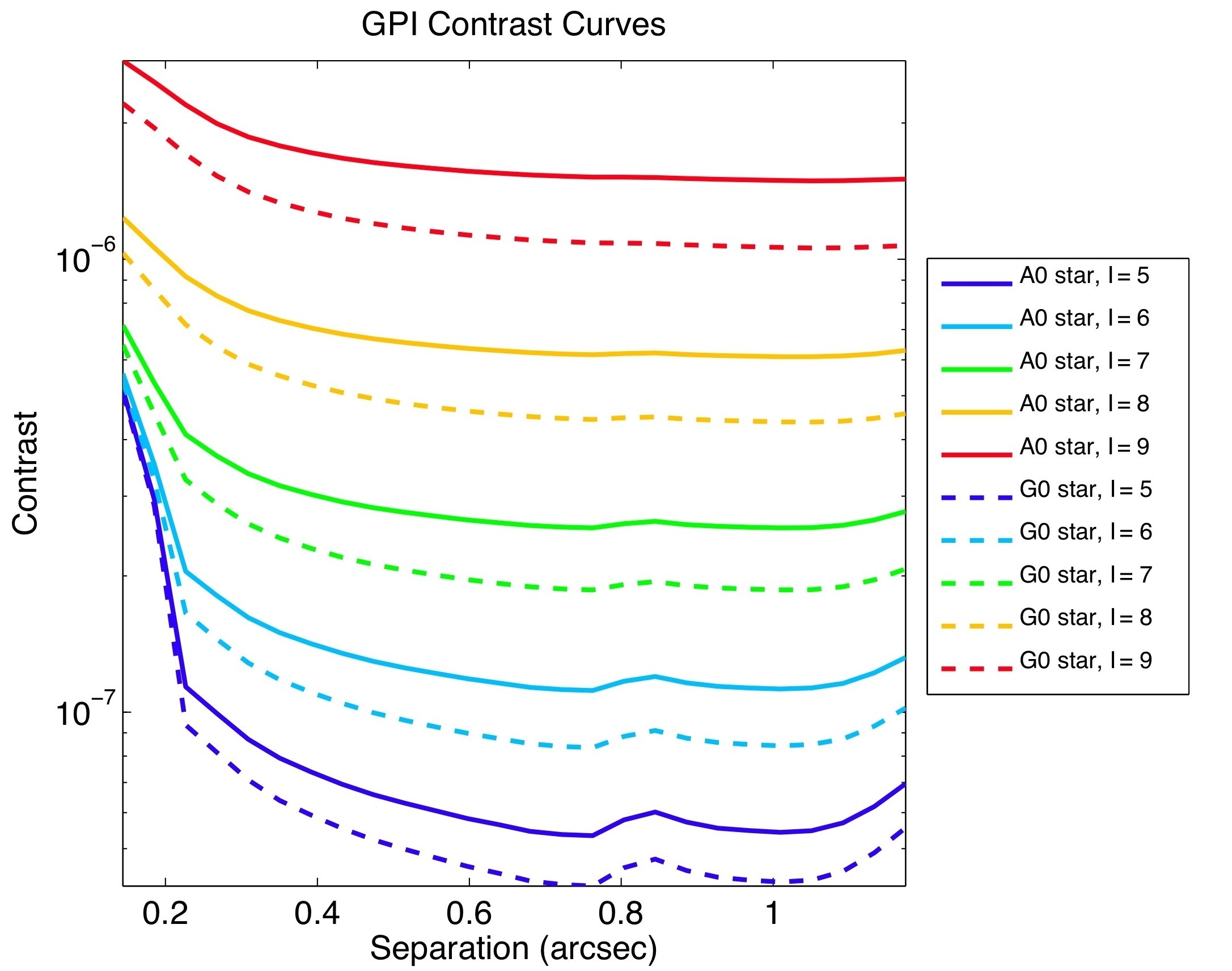 The data shown in this figure is available in various formats (Excel (XLSX and XLS), CSV, Formatted text table and html).
These curves have only been calculated for H band, with the default apodizer mask. Contrast vs. radius will be similar for the J and K1 bands; Y and K2 performance is not yet known. Two other mask options will be available, permitting smaller inner working diameter with lower contrast, or larger inner working diameter with better contrast. These have characteristics which will be determined at the integration & test stage of the instrument project. If you believe that your Campaign proposal would benefit from non-default masks, it will be necessary to state why. Please contact the instrument scientist in this case.