This page explains how to configure ALTAIR in the Observing Tool. Note also the guidelines at the bottom of the page for configuring the OT's "Target Component" when ALTAIR is being used.
ALTAIR Component
The detailed component editor for Altair is accessed in the usual manner, by selecting the Altair component in your science program, and is shown here: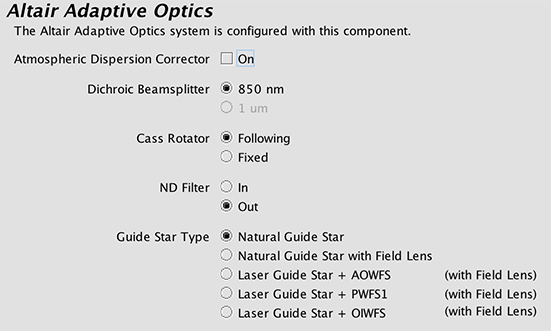 Figure 1.
Starting with semester 2007B the OT tries to assist in the creation of a proper Phase II by checking the program against a set of rules. If the OT finds something amiss then either warning or error messages are given to help you solve the problem. The checking feature is active by default but it can be turned off by un-selecting "Error Checking Enabled" from the Edit menu.
Known bugs (and workarounds, where possible) in the Observing Tool are described here. If you find a new problem, please submit the information via the Gemini HelpDesk and include any stack trace (by default Windows does not give a stack trace).
31 August 2012
Known bugs in 2012B.3.1.1:
When doing manual guide star searches some catalogs do not respect the inner radius or the magnitude limits. Some search radii are also listed in reverse (i.e. min > max).
Below is a summary of the Altair specifications, as in the Functional and Performance Requirements Document.

Altair is the natural guide star adaptive optics system for the Gemini-North telescope built at the Herzberg Institute for Astronomy (HIA). 

The science performance requirements for Altair include:
The Gemini community is invited to propose System Verification (SV) science programs for GeMS/GSAOI. The deadline for proposal submissions is Friday, September 14, 2012, 23:59 UT.