Staff Directory
View All Staff | AURA CAS | AURA Human Resources
---
Ruben Diaz
Current Research
Galaxies: evolution, dynamics, kinematics, morphology, modeling.

AGN: 3D spectroscopy, fueling mechanisms, variability.

Interstellar Medium: planetary nebulae, distribution, spectroscopy.
Current Support
Member of the Optical and NIR instrument support groups.

Member of the commissioning team of Flamingos 2, as deputy instrument scientist.

Member of the Gemini Time Allocation Committee (2008A-2010B).

Member of the Science Fellow-Astronomers Recruiting Committee (2007-2008).

Visiting Students Coordinator (2009-2010).

Gemini South Science Queue Coordinator (2006-2008).

Multi-instrument queue observer (optical, near and mid-infrared instruments).
Recent Publications
Refereed publications including Gemini observations:
http://adsabs.harvard.edu/cgi-bin/nph-abs_connect?library&libname=Diaz_Ruben_GEMINI_refereed_pubs&libid=47b6142d54
G. Gimeno, thesis 2008, now at Gemini Observatory.G. Gunthardt, thesis 2008, now at University of La Serena.D. Mast, thesis 2009, now at German-Spain Observatory CAHA.W. Weidmann, thesis 2009, now at UNC and CONICET.M. Aguero, thesis 2010, now at ICATE-CONICET.
Present students: J. Camperi and G. Gaspar (UNC).
Ruben Diaz is an Assistant Scientist at Gemini Observatory South Base. He obtained a PhD in astronomy in August 2004 at the National University of Cordoba, under Profs. Horacio Dottori (Brazil) and Gustavo Carranza (Argentina). He worked several years at Cordoba Observatory as teacher, also in charge of the Public Outreach Brand and in charge of the Bosque Alegre Telescope, where he commissioned the first multipupil integral field spectrograph of the Southern Hemisphere. He was on leave from positions as tenure-track researcher of the Argentinean National Council of Research and of Associate Professor in the National University of Cordoba. His research interests are broadly extended in extragalactic astronomy, and recently focused in the fueling mechanisms of activity in galaxies.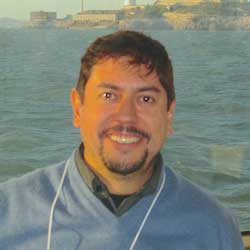 Office:SBF 222
Phone:+56 (51) 2205695
Address
Gemini Observatory (South)
Colina el Pino S/N
La Serena, CL