Gemini à la rencontre en ligne de la CASCA 2021.
Gemini at the online CASCA meeting 2021.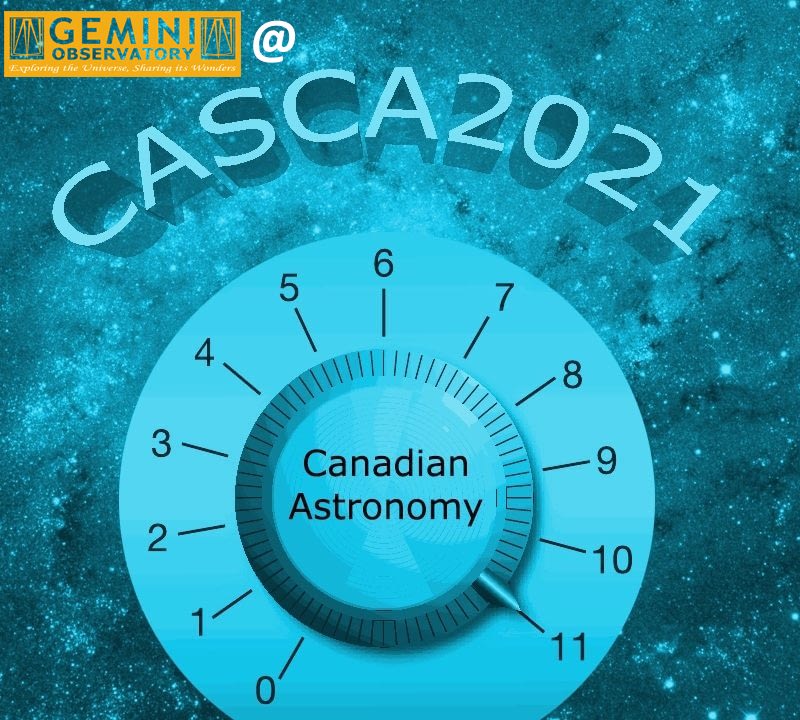 The Canadian Gemini Office (CGO), in collaboration with the NOIRLab international Gemini Observatory, are organizing a life support service in parallel to the online AGM 2021 (10-14 May).
L'Office Gemini Canadien (OGC), en collaboration avec l'Observatoire international Gemini de NOIRLab, organisent un service d'aide personalisé reliées avec l'AG 2021 en ligne (10-14 mai).
Attend the Gemini Townhall, Wed. May 12, 2021.

Assistez à la séance de discussion ouverte de Gemini, Mer. 12 May, 2021

Live support:

Send your questions to Gemini@nrc.ca, or klabrie@gemini.edu for DRAGONS' specific questions. You will be given a connection information for a live session. It can be general questions, or specific ones.

Offered during the days of the meeting
Priority to registered participants

Aide personnalisée:
Envoyez vos questions à Gemini@nrc.ca, ou à klabrie@gemini.edu pour des questions spécialement à propos de DRAGONS. Vous recevrez l'information nécessaire pour vouz connecter à une session en personne. Toutes questions sont les bienvenues, générales ou spécifiques.

Service disponible pendant les jours de la réunion
La priorité sera données aux participants enregistrés

Talks mentionning Gemini
Présentations orales qui mentionnent Gemini
#O13 Nicholas Vieira et al.
Session: Gravitational Waves & Black Holes
A Deep CFHT Optical Search for a Counterpart to the Possible Neutron Star Black Hole Merger GW190814
#O15: Leo Yvonne Alcorn et al.
Session: Galaxy Evolution
Kinematic Signatures of Environmental Quenching in z~0.8 Galaxy Clusters
#O17: Kristi Webb
Session: Galaxy Evolution
Galaxies in clusters are older than field galaxies at z>1: Implications for environmental vs secular quenching
iPosters mentionning Gemini
iPosters qui mentionnent Gemini
Nathaniel Comeau
Session: Surveys and Instruments
A Deep Polarimetric Study of the Asymmetrical Debris Disk HD 106906
Katie Crotts
Session: Star Formation and Interstellar Medium
Automated Gemini data processing at CADC
Viraja Khatu
Session: Active Galactic Nuclei & Supermassive Black Holes
Probing the Structure of a Highly Accreting Active Galactic Nucleus, Markarian 142
Tarun Kumar
Session: Surveys and Instruments
Research, Experiment, and Validation of adaptive Optics with a Legacy Telescope (REVOLT)
Christian Marois
Session: Surveys and Instruments
Upgrading the Gemini Planet Imager calibration unit with a photon counting focal plane wavefront sensor.
Joel Roediger
Session: Galaxies, including the Milky Way
The Formation Epochs and Timescales of Dwarf Galaxies in the Virgo Cluster
Fletcher Waller
Session: Galaxies, including the Milky Way
GRACES Spectroscopic Chemical Abundances in Ultra-Faint Dwarf Galaxies
Visit the Gemini booth, and ask us also about:
N'hésitez pas à visiter le kiosque Gemini, et de nous poser des questions sur: